WWE WrestleMania 34 Results, Live Updates : Brock Lesnar Vs Roman Reigns, UnderTaker Vs John Cena
WWE
WrestleMania 34, The thirty-fourth annual PPV went to become one of the greatest of all time. The PPV has surprised the WWE Universe at every single moment on the night. Whoever thought the Streak of Asuka will come to an end through the hands of queen Charlotte Flair. No one ever expected that a 10-year-old child will be Braun Strowman's Tag Team partner & became the youngest ever champion in the WWE history.
The Deadman has risen, The whole WWE Universe witnessed a match between two of the greatest superstars of their time. There is the new member in the Grand Slam Champion list as The Kingslayer Seth Rollins has won the IC title. The major upset is that The Beast has proven wrong every single story of his UFC return as he continues to march as the Universal Champion of WWE.
Quick Hits:
- "Woken" Matt Hardy won the Fifth Annual Andre the Giant Memorial Battle Royal
- WWE Cruiserweight Championship Tournament Finals
Cedric Alexander def. Mustafa Ali
- Naomi prevailed in the first-ever WrestleMania Women's Battle Royal
- Intercontinental Championship Match
Seth Rollins def. The Miz and Finn Bálor to become the new Intercontinental Champion
- SmackDown Women's Championship Match
Charlotte Flair def. Asuka
- United States Championship Match
Jinder Mahal def. Randy Orton, Rusev and Bobby Roode to win the United States Championship
- Kurt Angle & Ronda Rousey def. Triple H & Stephanie McMahon
- SmackDown Tag Team Championship Match
The Bludgeon Brothers def. The Usos and The New Day in a Triple Threat Match to win the Titles
- The Undertaker def. John Cena
- Daniel Bryan and Shane McMahon defeated Kevin Owens and Sami Zayn
- RAW Women's Championship Match
Nia Jax defeated Alexa Bliss to became New RAW Women's Champion
- WWE Championship Match
AJ Styles defeated Shinsuke Nakamura to retain his title.
- RAW Tag Team Titles Match
Braun Strowman & A Kid Named Nicholas defeated The Bar to became New RAW Tag Team Champion.
- WWE Universal Championship Match
Brock Lesnar defeated Roman Reigns To retain his title.
WWE
Main Event goes live from the New Orleans & as predicted by many of the Wrestling pundits Reigns did not put the win over Beast, Brock defeated Roman Reigns & is still the WWE Universal Champion.
Lesnar retained the titel after about a million F-5s. This was weired to say the least. The crowd wanted to hate the match. The crowd seemed to react more to beach balls in the crowd and were chanting "this is awful" and CM Punk and tons of other things. And the match was physical as hell, It was the usual Paul Heyman big match style Lesnar booking where they just do their big moves. Lesnar did tons of suplexes and tons of F-5s and Reigns kept kicking out. People didn't even pop for his kick outs. Earlier Reigns did Superman punch after Superman punch and two spears and Lesnar kicked out. He did another spear into a knee by Lesnar., Lesnar also elbowed the hell out of Reigns and Reigns was bleeding like crazy. Reigns took some bad falls from suplexes including nearly on his head on the floor from an overhead suplex. Lesnar did five F-5s, four for near falls and one onto a table. Reigns came back with a another set of two spears and Lesnar kicked out again and Lesnar hit his final F-5 and got the pin., The whoel thing was done for sympathy for Reigns when it was over to make him a babyface as they concentrated on showing him all beaten up and bloodied and limping to the back with the idea he was hurt, and he took a ton of punishment. Really interesting where this is headed tomorrow.
Quotes by WNO
WWE
WWE Announced that "Braun Strowman had made it clear that he didn't need a tag team partner to beat Raw Tag Team Champions Cesaro & Sheamus at WrestleMania 34.
When it came time to rumble on The Grandest Stage of Them All, however, The Monster Among Men came with a little back up. And it just happened to be a small child.
Braun plucked a young WWE fan named Nicholas out of the crowd at the Mercedes-Benz Superdome, ordered the kid to stand on the apron and proceeded to give The Bar those hands.
WWE
AJ Styles incredibly picked up the victory over Shinsuke Nakamura in a dream match at WrestleMania34. Shinsuke Nakamura ended the party as he delivered a low blow to the WWE Champion while handing over WWE Championship to him.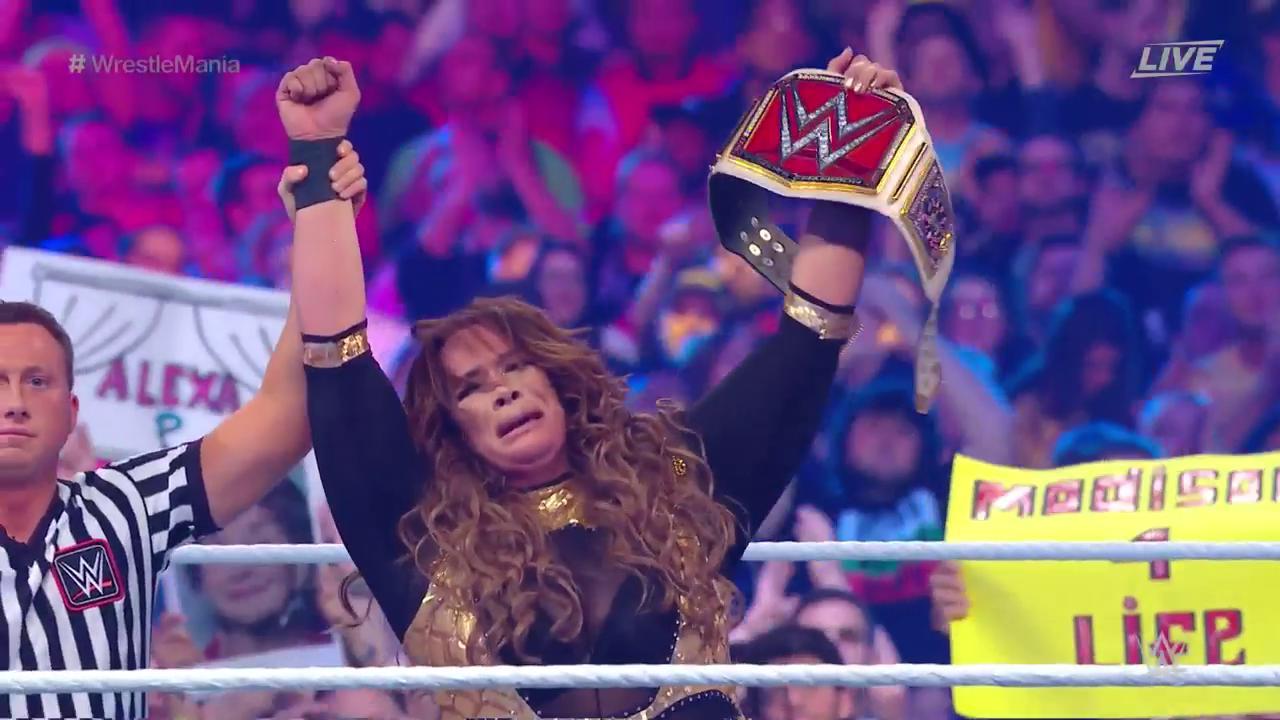 WWE
- RAW Women's Championship Match
Nia Jax defeated Alexa Bliss to became New RAW Women's Champion
WWE
- Daniel Bryan and Shane McMahon defeated Kevin Owens and Sami Zayn
WWE

- The Undertaker defeated John Cena
- SmackDown Tag Team Championship Match
Bludgeon Brothers defeated The Usos & The New Day to became new SmackDown Live Tag Team Champions
WWE
Mixed Tag Team Match
Team Rousey Defeated Team McMahon
Team Rousey defeated Team McMahon, Ronda Rousey arm locked Stephanie McMahon to which she tapped out and yes as we noted earlier UFC President Dana White was there to support Ronda Rousey.
WWE
United States Championship Match
Jinder Mahal defeated Rusev, Randy Orton &Bobby Roode
WWE
- SmackDown Live Women's Championship Match
Charlotte defeated Asuka to retain the Title
WWE
- Intercontinental Championship Match
Seth Rollins def. The Miz & Finn Balor
- Matt Hardy Won
Fifth Annual Andre the Giant Memorial Battle Royal
- Cedric Alexander Winner and New WWE Cruiserweight Champion
- Naomi Won The Inaugural Women's Battle Royal