The amazing Sami Zayn. He always has been, but he was the focus of this week's Friday Night SmackDown in Montreal. He had a show-long storyline that unfortunately ended badly for him (because let's be honest, those do too), but it served to remind us of his many wonderful qualities once again. You can see he's happy to get the chance to get close to Roman Reigns because he's cuddling up to him.
Then, believing he can get himself in even more trouble by giving his services, he takes a call from Jey Uso and breaks the news that The Usos won't be on the show. Reigns urge him to return the Intercontinental title to The Bloodline by claiming it for himself.
The expression on Roman's face when Sami says "we should do this more, this is amazing" is probably the finest part of this video.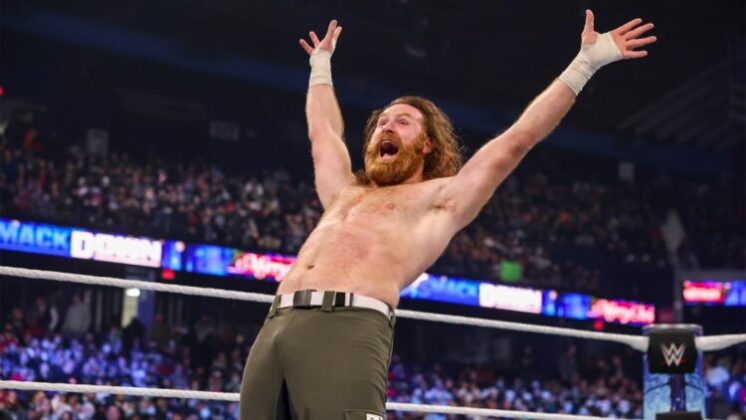 Later, in Quebec, Zayn is met with a hero's welcome from adoring fans who literally raise the roof in his honor. It's been a while since we saw a crowded root for a single wrestler with such fervor and dedication as this one:
Read More: Cristian Romero Miss 3-4 Weeks Exit Out Of This Game With A Muscle Injury for Tottenham!
He then delivers in the event itself, keeping the crowd on the edge of their seats and rooting for him to win despite the fact that he is a heavy underdog in a Fatal 5-Way. A reminder of the greatness that still lies dormant and can be unleashed at any time under the appropriate circumstances, the match showed flashes of the Sami Zayn who was delivering like this on the regular not all that long ago before his character arc led him in a different way.
TALK ABOUT A POP! 🤯@SamiZayn | #SmackDown pic.twitter.com/TQd2CGk7fB

— WWE on FOX (@WWEonFOX) August 20, 2022
Zayn finally got really close, but he fell short again. The stars aligned and this was meant to happen. Even if you got swept up in everything along with this incredible crowd, he hasn't turned yet.
It became apparent by the conclusion of the night that the face-to-face confrontation between Roman Reigns and Drew McIntyre was as much about how Zayn would inject himself as it was about advertising the match these two are due to have in a couple of weeks. He did what he said he would do, and swallowed a Claymore Kick in place of Reigns. Although Zayn sacrificed himself to give the WWE Universal Champion the opportunity, the latter wasted it by eating one of his own shortly thereafter.
Read More: Manchester United Are Contemplating a Late Bid for Atletico Madrid Forward Yannick Carrasco!
Still, Zayn will almost probably end up being the scapegoat in this situation. Even though Zayn went out of his way to help Reigns, he will never be able to accept his mistakes here because Reigns utilized him the entire event because he didn't have his regular backup. It's not Sami's fault that things turned out this way, but we all know it will be portrayed as such.
The question now is, given the warm welcome he received and the way his schedule was set up, will we be seeing a babyface turn from him? To what extent should we be? Probably at the moment, I'm completely engulfed in affection for him, admittedly heavily driven by that electrifying response to him, but I'm totally on board. If they keep this up, Reigns vs. Zayn may be the main event of a show sometime this year.
There aren't enough superlatives to describe how much of a boss Sami Zayn is, so I'll use one here.
Check Here for The Latest Sports Updates: https://www.sportzmode.com/